...Not gonna say much but I am having an idea! Some what of a diversion from what I make at the mo and if I can sort it out will be another string to my bow but I think I can make the new thing and the beads and jewellery work together..
Ha has that got your interest or what....
Watch this space.
Other news I have been making more spacer beads (about all I am good for at the mo!!) and I have found this completely delish yellow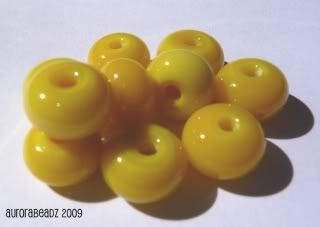 It is Bullseye sunflower yellow and I love it. I am not normally a yellow person but this is very very nice. It is a striking colour and when I am winding it onto the mandrel it is the most beautiful undescribable colour, one of those beads that I wish stayed the same colour when hot as cold! That said the yellow that comes out of the kiln is just......sunny!!!
I have also made these 2 sets which will be up on my website tomorrow for sale!

TTFNxx