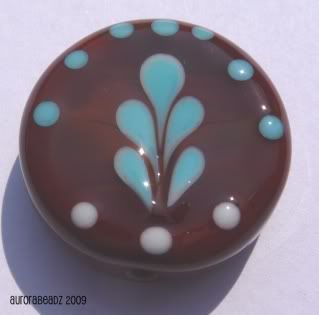 Finally. It has been nearly a week since I last did any beading because of this darstardly ear infection. I am still quite tired and in a fair amount of pain although I am no longer taking codeine just good ole reliable paracetamol. Anyway...enough of that I feel well enough to fire up the torch. I have several ideas pottering around as well.
The bead you can see at the top of this entry is one that I sold last week and is my next thign I have been learning to do with my dots. I was introduced to the work of
Lydia Muell
by my friend Keiara and she uses dots in her work which I have totally fallen in love with. I have bought her Black petal motif tutorial which I am going to have a go at later but I love what she does with her dots! Click on Lydia Muell's name and have a look at her gallery of beads and drool over her gorgeous work.
Right bead time is wasting and my lovely hubby has made me a cup of tea so time to go. I hope you all had a lovely weekend and have a lovely week.
TTFN xx